Optimize Training and Recovery.
Workouts may not always have the intended effect.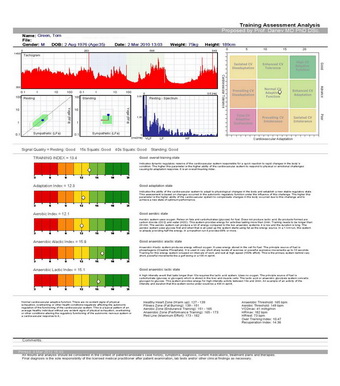 QAthlete provides scientific assessments of important health-related aspects, such as training level, aerobic and anaerobic capabilities, health condition, level of physical and mental stress in the body, the ability to withstand health risk factors, physical shape (fitness), and, ultimately, productivity during performance. Evaluation leads to improvement and limits the risk of overtraining and injury.
The QAthlete system utilizes a revolutionary approach for assessment of physical fitness. For over 30 years, the team behind QAthlete has been researching physiological effects of exercise, stress and recovery. Combining sophisticated software with state-of-the-art heart equipment, QAthlete transports the laboratory to homes, gyms, clubs and fitness centers worldwide.
The QAthlete system is easily installed on a desktop or a notebook computer and uses a heart rate belt or a ECG device to collect data for analysis. The system recognizes various states of physical fitness and generates quick reports based upon legions of data. Fitness evaluation by QAthlete includes the following:
* Overtraining index
* Recuperation index
* Overall training index/level
* Anaerobic alactic index
* Anaerobic lactic index
* Aerobic index
* Training adaptation index
* Resource depletion
* Stress reactions
This information provides an unprecedented level of control and predictive potential for fitness professionals, coaches, athletes and individuals.
read more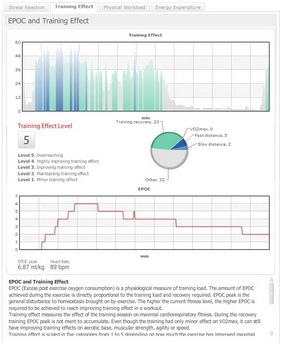 QAthlete provides important insight into your body's response to exercise by allowing you to measure physical workload, daily stress reaction and recovery, effectiveness of fitness training and EPOC. Discover the actual effects of your workout with QAthlete technology in order to train safely, more efficiently and more effectively.
Training Effect
Training effect indicates the performance and exertion level of an exercise session. Knowing training effect can lead to optimized performance. With QAthlete, view the positive training effect of successive workouts on physical fitness and physical condition during the measurement period. Discover the actual effects of your workout in order to train more safely and more effectively.
EPOC (Excess Post-Exercise Oxygen Consumption)
EPOC, or the amount of oxygen consumed after exercise during recovery, is the best parameter for measuring training effect. Harnessing this information is vital for targeting the optimal workout zone in order to improve fitness without overtraining. Using science and mathematics to train your body, QAthlete puts the laboratory at your fingertips to empower users with this valuable assessment.
Physical Workload and Recovery
Efficient and effective workouts are essential to improving physical fitness. QAthlete provides important insight into your body's response to exercise by allowing you to observe and monitor physical output, workload and recovery. Reports based on scientific measurements allow you to prepare programs based on your body's specific abilities, enabling you to progress and push the limits of performance without overtraining or risk of injury.
Weight Management & Energy Expenditure, Calories Burned
Effective weight management is exclusively based on the balance of energy intake and energy consumption. While the science is simple many people have a difficult time with maintaining a healthy weight. QAthlete facilitates goal-orientated weight management by providing an exact estimation of the total daily energy consumption as well as the effects of everyday activities on energy consumption.
Daily Momentary Mental Stress and Relaxation
Stress is present in our lives in two major ways: momentary stress and cumulative stress. Momentary stress occurs during our working lives as well as during sleep and can accumulate over time. Continuous increases in momentary stress leads to long-term, cumulative stress which can result in physical and mental breakdown. It is, therefore, important to measure momentary stress, recover quickly from it and understand its effect on our bodies. QAthlete is a proven method of measuring the physiological reactions of stress and recovery. QAthlete is also designed to help and analyze your sleep and improve it.
read more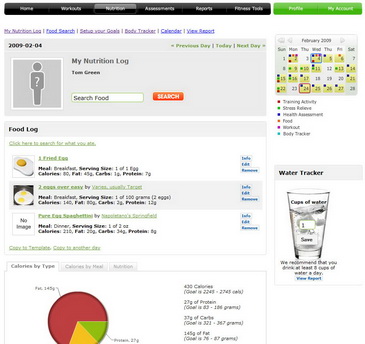 QAthlete simplifies weight management and regular exercise by providing multiple tools for tracking, monitoring, and managing workouts and diet. QAthlete's unique compilations of daily energy consumption and expenditure keep both athletes and everyday individuals on track and accountable to personal goals and peak performance.
Workout Trainer
Achieve maximum performance and ensure commitment to goals using QAthlete's mobile trainer. Automatically receive workouts tailored to your precise physical state, schedule training sessions, track your workouts, view progress and stay on track. Whether you're training for a marathon or strolling around the block, QAthlete keeps you in control and motivated to stay moving.
Diet Organizer
Employ technology to help manage your food intake and take control of your diet. Using this comprehensive, easy-to-use online software you can accurately track calories consumed, detailed nutritional information and energy requirements. QAthlete will even customize a diet plan based on your needs while providing numerous summaries and reports based on your personal data.
Tracking Nutrition
Quality of diet and nutrition are central to our overall health but can be easily overlooked. QAthlete's nutrition log ensures nutritional requirements are properly met by providing detailed nutritional information and daily summaries based on individual consumption. The comprehensive software offers a full nutritional breakdown of over 70,000 foods making diet tracking simple and quick.
Exercise Log
Utilize technology to exercise in a regimented, controlled manner. QAthlete allows you to easily track your strength, sports and cardiovascular workouts then analyze your results to develop custom solutions for goal achievement. Track every mile, every calorie and every hour to determine fitness, intensity, improvement and targets then create personalized programs based on your results.
Body Measurement
One of the most effective methods of tracking fitness and performance levels is measuring the body. Important indicators of strength, health and overall well-being, measurements such as body weight, body fat percentage and waist size are compiled and analyzed in QAthlete's convenient online application. Easily track progress and form goals.
Goals
Individuals and athletes, alike, respond favorably to goal-setting, however, staying on track can be the biggest challenge to achieving fitness and performance goals. QAthlete assists in setting realistic goals, creating plans for reaching those goals in a timely manner and utilizes powerful tools and reporting to ensure daily progress adds up to ultimate success.
read more